The Airline Deregulation Act, passed in 1978, gave airlines almost total freedom to determine which cities to serve domestically and what fares to charge for that service.  The Essential Air Service program was put into place to guarantee that small communities that were served by airlines before deregulation maintain a minimal level of air service & connectivity to the national air system.  The U.S. Department of Transportation (DOT) subsidizes the losses airlines anticipate at 140 smaller airports across the country, many of which would not have any regularly scheduled flights without the assistance.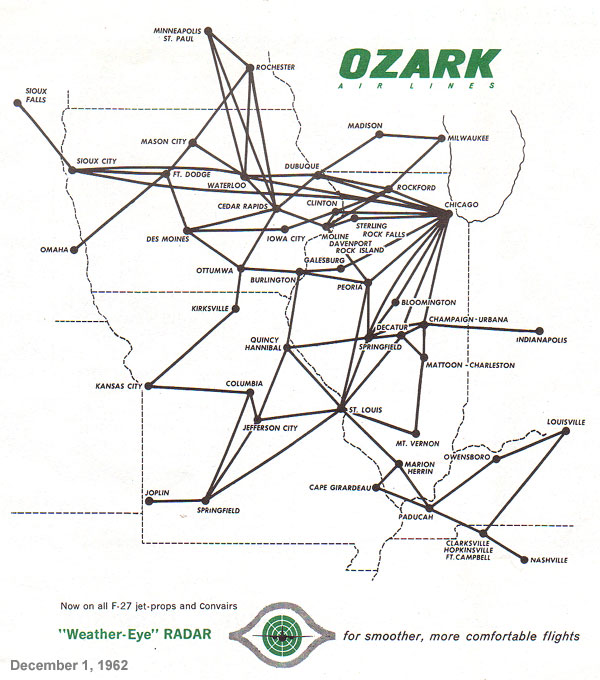 During the times the government regulated airlines, airlines just simply couldn't open a new route, like flying between Bucksnort, Tennessee and Possum Trot, Kentucky and charge $20.  Just didn't work like that.  Any new airline had to go thru a VERY strenuous application process.  And airlines had very archaic routings, like a simple flight from St. Louis to Chicago may have stops in Decatur, Bloomington, and Sterling before reaching Chicago.  Shuttle service was almost non-existent.   But these stops allowed smaller communities to have some level of link to the national air system.
After deregulation, airline stopped flying markets that no longer made sense.  United, for example, had a hub in Cleveland.   Flying a DC-8 between New Orleans and Baton Rouge just no longer made ANY sense.  As airlines streamlined operations, they started to focus on the new strategy of hub-and-spoke, which has resulted in today's operations at O'Hare, Dallas, Atlanta, Phoenix, and Denver (for example).  Traffic was now focused on these airports.
Over the 80s and 90s, major airlines started working closer with regional carriers and brought them under their respective banners – ie, this is when United Express and American Eagle came about.   Airlines like Air Wisconsin now wore orange, red, and blue stripes instead of red & black olive & orange.  Local airports wanted to be linked to the "big
guys", allowing for seamless ticketing & flight bookings (there was once a time everyone had to fly using paper tickets, and you simply couldn't just pull up Orbitz or Kayak to book a ticket, it actually took some time!).   As our airlines started growing more and more, the cost of doing business drastically increased.   Airplanes started costing more money, staff became more expensive, and government regulations also played a part in this.
Airlines put market dominance ahead of profits and it really put the entire system into chaos.  Smaller airlines started disappearing as they merged with others to strengthen their network and bottom line.  Codeshares came and went, as did their partners.
Larger regional aircraft started to appear, and as time progressed the economics of smaller planes didn't seem functional when compared to their larger brothers.  9 seat operators started disappearing like flies, following by 19 and 30 seat planes.  50 seat aircraft started to rule the skies.
As the smaller aircraft came offline, many communities had a difficult time filling enough seats and providing high enough fares to support aircraft like the Saab 340 and Embraer Brasilia.  Gone are the days of cheep Beech 1900B/Cs, Jetstreams, and Embraer Bandits.
In the 90s, Congress took notice of two things that changed EAS and small markets:  1. despite only a handful of crashes, regulations were changed requiring aircraft seating more than 9 seats operate under FAA Part 121 regulations (same as the big jets) and 2. Congress started noticing how expensive EAS was getting.
Both of these issues compounded markets like Mattoon, Illinois & Moses Lake, Washington.  The new regs increased airline costs by drastic amounts overnight, and Congress started making it more difficult for small cities to remain subsidized.
And we fast forward.  As the economy evolved, so has the markets in the EAS program.  Airlines have found ways to cover their losses by simply filing a 90 day notice to vacate a market (even when they have no real intention of doing so) – and as long as they are the sole carrier, the DOT will ask carriers to BID on flying that market.
What has began as a band-aid to help smaller communities is now subsidizing air service to many markets that once were highly successful.  The Essential Air Service program is one that is highly useful in maintaining business & a way of life for many communities, however the program has been used & abused by the airlines, the communities, and the politicians.
I'm providing this site to help educate the public… unfortunately many airports and airlines don't get to tell their end of the story, and the public doesn't really find it "sexy" enough to warrant follow-up stories from their local media.   I think this program is a good one, however there are abuses that need to be fixed and airlines need to be motivated to try to make markets work, rather than allow EAS to become an airline-welfare program.
Use Facebook to Comment on this Post