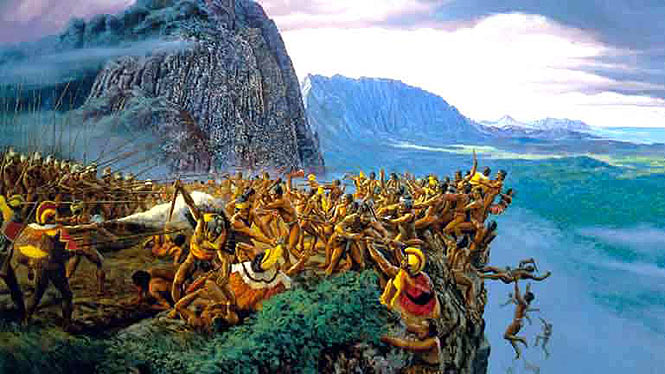 Looks like DOT is in a weird spot on this one as we're getting a great reenactment of the Battle of Nu'uanu.
Pacific Wings has been jerking around EAS in Hawai'i for quite some time, be it for political or posturing reasons unknown to me.  Bidding on a market, then saying they'll fly subsidy free, only to jack the prices up to nearly the cost of a transpac flight between Hawai'i and the mainland, then giving notice to pull out, then saying they'll fly subsidy free.  Enough to make your head spin.
So regarding Kalaupapa, Hawai'i, Pacific Wings was told on November 22nd of last year to make way for Makani Kai / Schuman Aviation to come in and fly the route to Honolulu and Ho'olehua (Molokai airport).   For one, the bid by Makani Kai was a bit flawed as this was the company's first shot at federal money and the finances are quite iffy.  Pacific Wings even submitted a very good argument against Makani Kai, and as shocked as this may sound, I completely agree with Pacific Wings on almost every point (except the one regarding their service/fares, but I do support the DOT putting in another airline).   The finances are beyond accurate, and even in Makani Kai's letter to the DOT, they acknowledge their lack of experience in their bid.  I also counted 12 horrible grammar errors and at least 5 spelling errors.  Even the address line was not correct, dropping "Washington D.C."  – I hope they didn't mail the letter!
Schuman Aviation clearly admits they didn't account for any start-up costs, nor a second aircraft "as required" by the DOT – which isn't true.  The company also said it didn't include seven days of flying as the proposal calls for six days (I believe six days is the minimum, but ALL DOT EAS bids are based on weekly frequencies).   The manager of the company even stated he found it difficult to estimate future ridership  (ever hear of historical T100 reports?)…. the more I read this letter, the more I bang my head against the wall.   Schuman should have hired a consultant to help them with this bid.  Most airlines do.  Heck, I'll do it for $150/hour $500 minimum
  I at least have caught my spelling errors & resubmitted my bid.  I think that Schuman should really take a step back and proof read and consider the message being sent to the DOT, which is basically "we are NOT prepared".
Greg & friends at Pacific Wings have enough ammunition, and this airline just handed them a cannon  (on a side note, the Pacific Wings website shows a prominent picture of a pilot, who happens to be the director of operations for a competitor).
So here's what I think:  DOT is going to put this sucker out for rebid.  And I see Mokulele Airlines coming out to bid as well, and unfortunate to Makani Kai, I think Mokulele is going to get it.  Pacific Wings is still charging an arm & leg to get to Honolulu ($498 to be exact & a quick check at Kayak.com shows you can fly from Las Vegas to Honolulu for only $390…) and won't get any support from the State or community.  Mokulele will easily get another Caravan as it already has 4 in the isles and offer fares in the neighborhood of $39 to Molokai and $75ish to Honolulu.  And the flights will allow for online booking, interline connections, and GDS connectivity.
As I look at the above picture, this is the Pali lookout, overlooking Kaneohe on the island of Oahu.  It was the site of deadly battle (Battle of Nu'uanu).  As you can tell, it was difficult.  I can't figure out where I'd place Pacific Wings, Makani Kai, and the taxpayers.
Wait, no, the taxpayers and residents of Kalaupapa are the ones getting slaughtered. The question remains – by whom?
Use Facebook to Comment on this Post